Our Story
Pop in and say hi… anytime!
You can find us at 179 Military Road, Neutral Bay.
The Croll Real Estate story began in 1904 when an 18 year old Andrew Raleigh Croll opened an office in Neutral Bay with the occasional help of his father Andrew Usher Croll. The aspiring young agent operated in a world far different from that of today. (Photo: Raleigh (Andrew Senior) Croll far right with family)
Setting up business was a simple matter. Just like public accountants, pharmacists and the local dentist, Painless Perkins, real estate agents were not required to sit exams or hold a qualification. There were no phones or electricity to worry about and with few cars on the road, life operated at a far slower pace.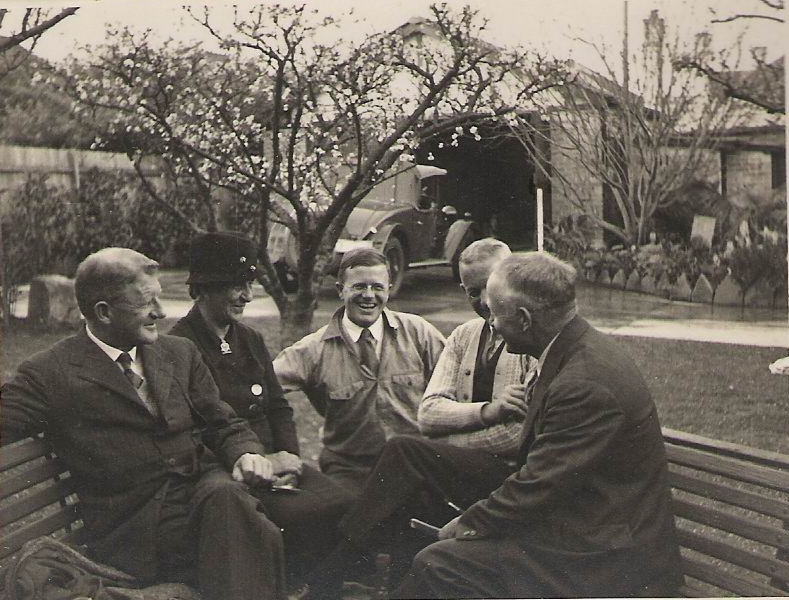 Much of the land in the area was vacant and Andrew would spend his days taking buyers for inspections in his sulky, drawn by a horse named Dolly Daydreams. Renowned for her narcoleptic tendencies, Dolly would regularly need to be prodded awake before moving on to the next property.
The sleepy suburb of Neutral Bay was however set for rapid change. The years between the wars saw an unparalleled surge of development, with a swiftly expanding North Shore population and very few planning controls to hold back the building boom. In 1932 the Harbour Bridge was opened, instantly making the North Shore a far more accessible and desirable location for home buyers.
Times however were not always easy for the real estate office. Following the Great Depression came the Second World War, creating a long period where development came to a standstill and many agencies were forced to shut up shop.
Growing up through these tough years was Andrew's son Colin. One of Colin's early holiday jobs was to go door to door, collecting the rent. Back then people could be extremely trusting, with one old lady frequently going out and leaving a note advising that the rent money was under the back doormat.
Before joining the family business full time Colin gained a law degree and spent time working and travelling overseas. In 1957 his father died, leaving Colin to take over operations.
According to his father success in real estate was "mostly about energy". It was advice that Colin embraced wholeheartedly, working to build the agency from a small operation with just four employees to a much larger business, with a remarkable record of success. His enthusiasm has never dulled and to this day Colin remains extremely active in the business, still coming in to the office most days.
While much has changed in real estate, Colin believes the people have stayed the same. Throughout his career Colin has dealt with a huge variety of personalities, providing calmness and clarity as he guides them through the big decisions that come with buying and selling. At all times he has operated with the simple integrity which he believes should be the cornerstone of any good real estate business.
When Colin stepped up to the role of Chairman in 2002, his son Andrew took over as Managing Director of the business. Already an experienced professional, Andrew had by this stage gained a Land Economics degree and spent his initial years cutting his teeth in Commercial Real Estate. Working alongside Lesley Pritchard he established a successful track record selling and leasing shopping centres and warehouses.
Since becoming Managing Director, Andrew has worked to expand the business and during the past decade the agency's sales and property management departments have both doubled in size.
Much energy, time and money has been devoted to streamlining the business, making it more efficient, innovative and IT savvy. Andrew has also invested a great deal in building a highly committed team of property professionals. Their energy, focus and genuine commitment to clients have helped to build upon the agency's long-established reputation.
With a forward-thinking approach to real estate, Andrew has charted a course for strong future growth. Currently he is working with his team to build an industry leading real estate business, with a rich range of web based services designed to enhance efficiency and enrich the customer experience.
Coupled with this technological focus is a commitment to maintaining Croll Real Estate's strong traditional values. By working with the same integrity as generations before, Andrew aims to build upon more than one hundred years of success and deliver locals an exceptional real estate service for many years to come.