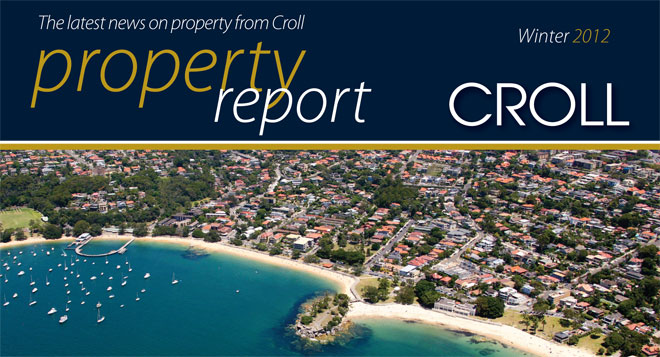 Andrew Croll,
Principal
email me
M: 0409 530 133

We're currently living in a two-speed real estate market on the lower North Shore.

With the recent news of interest rate cuts and possibly more to come, buyers on the North Shore market have a pin accurate focus on what they want in order to make a move. But if all the balls don't line up, they won't commit.

To make it more complex, there are at least two distinct marketplaces operating.

Of the limited stock that is under $1M, those that are presented well and priced correctly are selling in a week.

Then there is the other market – those properties in excess of $1.5-$2M. In this market being priced correctly is even more important, or they could sit.



And still yet, there's the hidden 'quiet' market that's operating in the area.

It's the unseen one that moves and shakes without you being aware of much activity.

That market, is populated with the over $2M properties. These are listed quietly - with little fanfare or marketing activity.

In a fractured market like this, it's even more important to be price-and-presentation wise (see Styled Up and Selling Fast stories on page 3).

The winter months are typically a great time to sell – there are many buyers, all competing for a limited amount of stock.
The good news?

If you have a sunny, north facing property you should be listing it now with us for a quick sale. You'll then be cashed up for the spring selling period, and in a position to negotiate hard.

How is your suburb performing?

According to the latest figures from Residex, the prices of houses and units in our area indicate bricks and mortar continue to be a great investment. See how your suburb is performing in this comparative table:

---
We are once again proud sponsors of the Redlands Westpac Art Prize (RWAP) being held at the National Art School Gallery.

It's the fourth year we've been involved in this exciting event, and it's a wonderful community activity.

Be sure to take some time out to visit this worthwhile exhibition:

3rd May – 2nd August, 10-4pm daily, NAS Gallery, Forbes St Darlinghurst. Admission is free.

In its 16th year, the RWAP is respected as an important contemporary art prize that supports both established and early-career Australian and New Zealand artists.

The winning art works are acquired by Redlands to add to the school's collection and are used by the Visual Arts department for teaching purposes.

Further information: www.redlands.nsw.edu.au/go/redlands-community/redlands-westpac-art-prize

Agents across the country battle this out every day. It's one of the most important decisions when selling your home - what is the best method of sale?

Both auctions and private treaties have their benefits and weaknesses, although it's important for an agent to note the mood of the market and the likely buyer when deciding on the best selling method.

It's often difficult to accurately predict the selling price and best method of sale for any property. However as with most decisions, it comes down to a simple review of the facts and circumstances.

1. The property
The property itself will strongly dictate the best sales method. If a property has some unique characteristics or unusual features, it may be hard to accurately price it against other properties on the market at the same time.

2. The price
By removing the price (in the case of auction), it enables the buyer and seller to meet (or not) at an agreed price. This then in theory should be the true value of the property.

3. The promotion
The marketing campaign required to sell an auction property should in reality be no different than one required for private treaty. The only additional (unusual cost) is that of the Auctioneer.

In the end, the real focus should always be on the seller and selecting the method of sale in the given market and area that will achieve the best result - and that is what matters - the client's end result.

"Dear Andrew and Team
Thank you all very much for the fantastic experience with regards to the sale of my unit.

You have restored my faith with regards to "Property Agents" - there are professional and ethical people out there! This is extremely unique and hard to find!

The team work was excellent. Andrew's leadership is of the highest quality and standard. The Marketing Report was impressive, extensive and very informative.
This was my second experience with "Croll". The first was buying a property (2003) and the 2nd was selling a property (2012). Both experiences were of the highest standard.

Generally, I don't refer readily. However, I would not hesitate to recommend "Croll".

I wish you all continued success and look forward to doing business again in the future.

Keep up the good work!"
Ondine, May 2012

When it comes to selling presentation is all important. You must always remember that your property is in a competition with other properties of similar value.



A mini-makeover before going to market can add dollars and memorability in the minds of buyers, as well as speed up the sale. In the current marketplace it's important to have your property stand out from the rest.

Rather than falling for the trap of lowering the price, consider adding value by improving the product.
We've had some great successes of late with mini-makeovers on 2 bed apartments on Milson Road and Murdoch Street.

The first of these (after a small $6000 makeover) sold on the first weekend it was open, at a fantastic price.

About $20,000 was spent on the second apartment (as some wet areas needed upgrading), but again the property sold in the first week, with the owner more than recouping the expenditure.

Styling and makeovers definitely make a huge impact. They help buyers make an easy transition to either moving in and living straight away, or getting an instant return on their investment through rentals.

But if you're worried about spending money, many properties only need a few thousand dollars spent on them to get them right for the market, and to help achieve a speedy sale and greater results.

We can advise you on what is required to give your property a great presentation that can be more than recouped in the final sale.



Alex Waley -
New member of the Croll sales team


While there is a perception that the housing market is a little soft, I'm still finding that well presented and promoted 1 and 2 bedroom apartments are selling quickly and for strong prices.

By way of example, this large 1 bed apartment on Badham Avenue, Mosman sold in just one week!

There are still many buyers in the marketplace and the agencies that are successful are those that are staying in touch with their current buyer, listening to their needs and then matching properties that suit.

Our extensive database makes best use of this information and helps us match properties with buyers quickly. The days of hoping that the right buyer, who will pay the best price, will just wander into your property are over. It takes hard work from your agent."

For further information, please contact
Alex Waley on 0418 959 926



Gary Bixley - BA (Hons) Dip Surv (UK)
Associate Director Property Management


The demand for rental properties is showing some signs of quietening slightly, with some properties now taking a little longer to let.

Where before Easter we were having a queue of prospective tenants looking at properties for lease, the demand and rental levels seems to have plateaued for the time being.

However, as always, properties presented well or renovated are snapped up quickly, so it's definitely not doom and gloom.

Overall, vacancy rates are still a very healthy 1.5-2%, but compared to the outrageous 1% of late, it does take some getting used to.

The vacant properties taking longer to lease are those that do not represent as good value as others because of their condition.

We can offer expert advice for those seeking to renovate within a budget, whilst maximising your return. Call us to find out more about a makeover for your investment – to ensure you get the best value.



CHIC RENOVATED PROPERTY IN PRIZED POSITION

7/20 Harrison St, Neutral Bay

Stylishly renovated, this bright two bedroom, 2nd floor security apartment features fresh open-plan interiors, modern kitchen with stone bench tops and stylish full bathroom. Nestled close to the heart of Neutral Bay, this affordable property boasts eye-catching views stretching to the city skyline and Opera House. A short stroll to public transport and popular nearby cafes or indulge in a selection of the North Shore's finest restaurants.

Details: Gayle Clifford 0419 998 413 / gayle.clifford@croll.com.au



AFFORDABLE STYLE, EXCLUSIVE SETTING

3/3 Billong Street, Neutral Bay

Impeccably presented, this affordable 2 bed apartment is perfect for those seeking a quiet hideaway in one of the North Shore's very finest locations.
Features include a modern kitchen, open plan living plus a sunny balcony and glimpses of the harbour.
The location is great - just moments from Kurraba Ferry Wharf and minutes from the CBD. It is also within close reach of harbour-side walking trails and Sirius Park so you can enjoy an outdoors lifestyle.

Details: Gayle Clifford 0419 998 413 / gayle.clifford@croll.com.au



FABULOUS TOWNHOME IN PRISTINE CONDITION

28B Raglan St, Mosman

This superbly built, well appointed townhome is in a much sought after location.
Features include 3 bedrooms (master with ensuite), 2.5 bathrooms and a guest vanity plus a large rumpus room, reverse cycle air-conditioning and internal access from a secure triple car space. Pets allowed. Polished floorboards in living/dining, flowing out to the garden.
Views of the Harbour Bridge and City from a huge balcony off the master bedroom, while views of Taronga Park Zoo are seen from the second and third bedrooms.

Details: Gary Bixley 0425 302 667 / gary.bixley@croll.com.au



RENOVATED AND SPACIOUS FAMILY HOME
IN ULTRA CONVENIENT LOCATION

62 Belgrave Street, Cremorne

An ideal home for the entertainer, this immaculate 4 bedroom semi-detached residence offers a low maintenance lifestyle that is exceptionally private and secure.
Features: North facing, generous living spaces, sleek kitchen, upper level master retreat, double lock up garage.
Conveniently located, it is moments to the restaurants, cafes and shops of Neutral Bay and with no traffic lights to the city!

Details: Gary Bixley 0425 302 667 / gary.bixley@croll.com.au